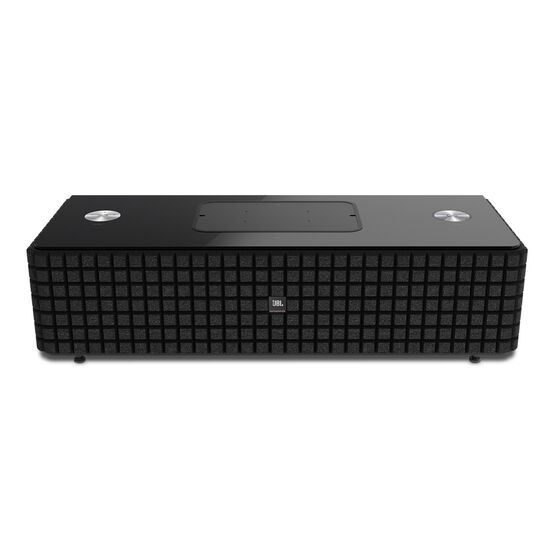 JBL Authentics L8
Details
https://www.jbl.co.nz/award-winners/AUTHENTIC+L8.html?dwvar_AUTHENTIC%20L8_color=Black-EMEA-Current
---
Two-way speaker system with wireless streaming
120 watts (RMS) of JBL power and advanced acoustic design produce dynamic, full-range stereo JBL sound from a single speaker.
High-performance JBL transducers and meticulous acoustic design deliver amazing sound from a compact speaker. The optimized low- and high-frequency transducers combine with advanced electronics and DSP to present full-range stereo sound with a wide stereo image – all from within a single enclosure.
Wireless connectivity for AirPlay, DLNA and Bluetooth® devices
The JBL Authentic L8 provides easy wireless audio playback from smartphones, tablets, computers and media players. It offers AirPlay for iTunes and iOS devices, DNLA for Android devices and Windows PCs and Bluetooth® – including instant Bluetooth® pairing with Near Field Communication (NFC) technology. The speaker automatically switches streaming formats as needed, simplifying use with all your devices.
Clari-Fi Technology
Clari-Fi analyzes digital audio files during playback and "rebuilds" what was lost in compression. Other audio "enhancers" simply add EQ or reverb to existing content with the unsatisfactory result of boosted artifacts and increased distortion.
Wireless charging pad lets you recharge your compatible devices without docks or connectors.
The JBL Authentic L8 has a wireless charging pad on the top that makes recharging your compatible mobile device easy. No worrying about connectors; simply place your device on the charging pad. The wireless charging capability is another way the JBL Authentic L8 maintains a clean, uncluttered look.
Uncompromising sound. Versatile connectivity.
Simple fact: the JBL Authentic L8 will change the way your room sounds forever. Inspired by the legendary JBL Century L100 loudspeaker, the JBL Authentic L8 blends classic acoustic speaker design with advanced wireless audio streaming. Sporting a gloss-black wooden enclosure, the L8 maintains unmatched audio quality while providing wireless connection to a wide range of devices via AirPlay, DNLA and Bluetooth®. Near Field Communication (NFC) technology lets you pair a Bluetooth device simply by tapping it on the speaker. Meanwhile, the free JBL MusicFlow app lets you easily set up and control the speaker with your iOS or Android mobile device. And it's as versatile as it's easy: wirelessly charge compatible mobile devices on the speaker's optional Qi charging pad, or charge devices, including tablets by using its built-in USB ports. Packing 120 watts RMS of power, custom JBL low- and high-frequency transducers, advanced DSP technology and a frequency response of 50Hz – 35kHz, the JBL Authentic L8 produces full-range sound and a wide stereo image from a single stereo speaker. Harman Signal Doctor technology replaces the details lost in today's compressed music files, adding detail and energy to any low quality music stream. The JBL Authentic L8 is the perfect companion for any audio source, and the ideal sound system for any living space.